American Airlines will now ship its Flagship wines to your doorstep
During the pandemic, airlines are looking to trim costs and
raise as much cash as they can.
The latest move from American Airlines does exactly that — all
while keeping your (wine) glass full. The Fort Worth-based carrier
just unveiled Flagship Cellars,
an online shop to purchase a selection of curated wines at a
discounted price.
American partnered with Vinesse Wines, an online wine retailer,
to debut its Flagship Cellars collection.
Anyone 21 and older can now purchase either a wine subscription,
curated collection or individual bottle from the American-branded
online portal.
For more TPG news delivered each morning to your
inbox,�sign up for
our daily newsletter.
In addition to discounted pricing, oenophiles will earn two
AAdvantage miles for every dollar spent on the portal, excluding
taxes and fees.
The monthly subscription option costs $99.99 including delivery
and will offer a rotating selection of three wines picked by
American's sommeliers.
You can search the entire selection on the
Flagship Cellars website, and American plans to continue
rolling out new offerings in the coming months. Prices range from
$12.99 to $50.99 per bottle depending on your preference. The
collections include three, six or 12 bottles, with prices from
$62.50 to $399.99.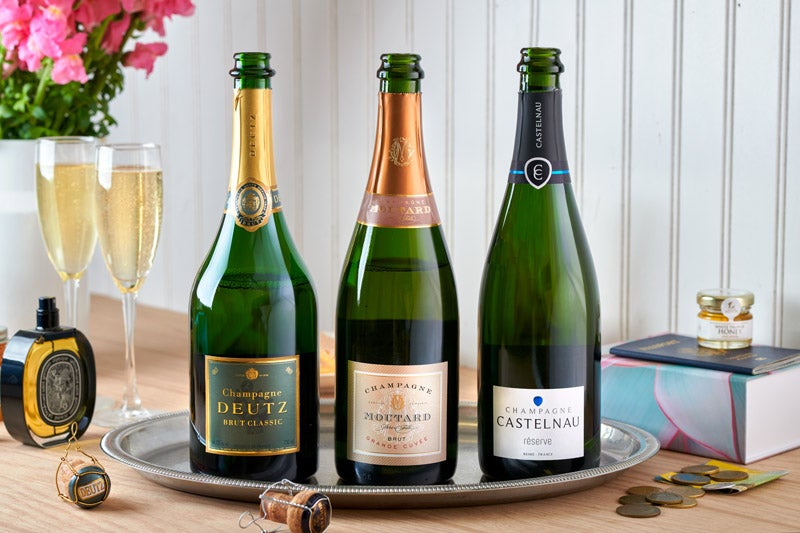 (Photo courtesy of American
Airlines)
Many of the 24 bottles available for purchase come directly from
the carrier's lounges and onboard offerings. In fact, my last
flight before the pandemic was in American's
transcontinental Flagship First. I looked back at the wine menu
and found the bubbly I was served — Deutz "classic†Champagne
— now available for purchase for $44.99.
With
Flagship Lounges closed networkwide and most of its
premium-cabin flying suspended, American clearly has a surplus of
wines. With this new program, the carrier can raise some cash for
bottles that would otherwise sit in storage in some offsite
catering facility.
American isn't the only carrier to get creative about its wine
offerings.
More: Redeeming
Delta SkyMiles for Dom Perignon
One of the best
uses of Delta SkyMiles has long been a bottle of Dom Perignon
2009. A glass of this top-notch Champagne served in the Sky Club
costs $39 or 2,600 miles, while a bottle will run you $200 or
10,000 miles — a well-above-average redemption
rate for SkyMiles.
Wine-loving cardmembers who hold The
Platinum Card® from American Express should check their

targeted Amex Offers. In recent weeks, the issuer has added a
host of discounts for online wine purchases at retailers like Acker
Wines and WineInsiders.com.
Nevertheless, with Flagship Cellars, grounded travelers now have
a new way to replicate the American Airlines first-class travel
experience while stuck at home.
Featured photo by Zach Griff, TPG
Source: FS – All-Travel destinations-News2
American Airlines will now ship its Flagship wines to your
doorstep